Welcome to Your Local Maine Neighborhood Pharmacy
We believe it is our job to make your pharmacy experience as convenient as possible. Whether you want to pick up your prescription at our locations in Auburn or Lewiston, or you need us to bring your medication to you, you have options at Bedard Pharmacy.
---
Convenient Medication Pickup and Delivery
If you can't make it into one of our pharmacy locations, we can deliver your prescription to you. We offer free delivery within 25 miles of each of our locations and aim to have items delivered within 2 business days. New customers can fill out the Pharmacy Intake/Transfer Form located at the bottom of this webpage. Existing customers can request a prescription refill by completing our Prescription Refill Request Form.
If you're not going to be at home to sign for your medications, we can either mail them directly to you or you can use our drive-thru option instead! We offer drive-thru services at both of our pharmacy locations.
Medication Synchronization
This service allows patients to synchronize their medications in order to receive them all on the same day, on a monthly basis. This means only one trip to the pharmacy or one delivery per month.
---
Download Our App - MobileRx
Free smartphone app for iPhone and Android phones. To get started, just enter "2077831410" for our Auburn pharmacy and "2077860138" for our Lewiston pharmacy.
Express refills: Either by entering prescription #'s or scanning the barcode on a current prescription label. The app notifies you immediately if your prescriptions are accepted or if there is an error in the refill request.
Active Rx and Rx history: Get important prescription details right at your fingertips in your Patient Profile, including:
Active Rx: A list of all your prescriptions currently available for refill
Rx History: Details about past prescriptions, including dosage and the date of your last refill
Pharmacy information: If you're picking up your prescription at the pharmacy, you can quickly find our address, phone number, and Google map directions.
---
Medication Therapy Management
Our pharmacists will meet with you (in person or over the phone) to review all of the medications that you are taking. They will discuss with you how well your medications are working, any side effects you may be experiencing, possible interactions and any other concerns you may have. The goal is to optimize your drug therapy and improve your therapeutic outcome.
Refill Reminders
Refills can be requested through the Mobile Rx App, through the Refill Your Prescription Form on our website, or by giving us a call. Bedard also offers HealthMinder, which is an automatic reminder call, notifying you when a prescription is due to be refilled. When your prescription is out of refills, we will contact your doctor to request additional refills. HealthMinder also offers an automated call, text, or email, to inform you when your prescriptions are ready.
---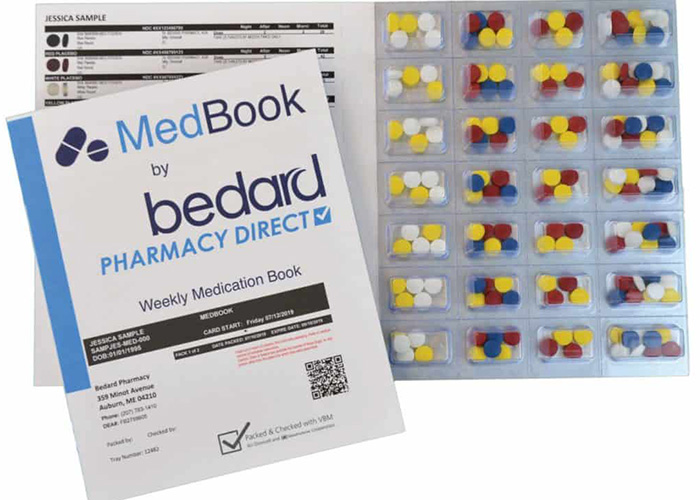 MedBook Multi-Medication Packaging
If you have been prescribed multiple medications, it can be difficult to know if you're taking the right medications at the right time. With MedBook packaging, your medication management is easier and safer. Benefits to MedBook include:
Your pills arrive pre-sorted and packaged by dose and time of day
Your pharmacist sorts and packages your pills
Reduces risk of missed or double doses
Available at no additional cost
Complete medication list located on the inside cover
To check if MedBook might be a good option for you, call 207-783-1410 to speak to one of our specialists.
---
Transferring Is as Easy as 1, 2, 3!
Call Bedard Pharmacy at 207-783-1410 with the following information (or fill out the form below).
We will call your current pharmacy or doctor and transfer all of your prescriptions to our store.
Your prescriptions are ready to be picked up or we will deliver to your home or office.
Pharmacy Intake / Transfer Form